Joey Deriquito
Content Writer
Nothing excites Joey more than a tank full of gas and an open road. He yearns for knowledge, always studying and researching about cars. Many of his friends would say that his car is an extension of himself, always able to observe when even a single bolt is out of place.
@AutoDealPH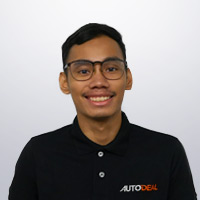 Nissan takes an old school non-techie driver on a tour in Binondo to teach him about the Intelligent Mobility technology featured in the Navara.

We give you a closer look at the recently launched MG 5 subcompact sedan that made its debut on October 3, 2019.

The JAC S1 is a little crossover with big potential with features that are out of its segment.

3.6

/

5

Whether you're looking for a Sedan or a Hatchback, we have you covered with information and tips to look out for to help you choose.

All the way from Cebu now to Manila, the MG 5 is here along with the rest of the MG lineup

The Suzuki Carry, the sturdy workhorse and GA Dzire, the new base model on the block, show that small vehicles are capable of big things.

awning your car's OR/CR is an option if you want to get cash quickly, however, there are some risks involved. Read on to find out what they are.

Chevrolet Philippines recently announced a price change for the Spark and its a rather substantial price difference

yundai PH updates its price list for the Reina and adds two new variants with touchscreen head units.

Toyota and Subaru have recently announced that they will be partnering up again for the next generation BRZ and for future hybrid technologies.

Geely Philippines is back and it has the new Coolray subcompact crossover in tow.

If you're in the market for a subcompact crossover, this list might help you make the right choice based on our reviews.

Hyundai now gives buyers the chance to have their vehicles serviced for free when they buy a new Tucson, Santa Fe, or Grand Starex.

Smarter driver aids that give cars near autonomous capabilities are getting more rampant.

The 10th-generation of the Honda Accord just hit the market with a new design, engine, and transmission.

Ford invited us on a 600+ km media drive to put the new Everest through its paces, from mountains, through highways, and through provincial traffic.

BDO, together with Waze, crown Catriona Gray as the next celebrity Waze voice.

Hino PH inaugurates its new technical support and training center. The center promises to better serve its customers and provide comprehensive servicing for all Hino vehicles.

Toyota now lets you buy your very own race car, purchasing a Vios OMR car automatically grants you entrance into the circuit race of the Vios Racing Festival

Lexus introduces the new 2020 RX luxury crossover with a couple of minor tweaks.

Peugeot Philippines now has a 24-hour service hotline for owners who are in need of emergency repairs and servicing.

This new promo helps to extend Toyota's after-sales service well in the life cycle of the vehicle.

Chevrolet Philippines announces the launch of the newest variant of the Colorado – the Trail Boss.

Maxus Philippines formally launches the G10 with Assist package which will make transporting PWDs and the elderly much easier.

If you're in the market for the cars below P1 million then this shortlist might help you.

Toyota confirms that the Fortuner lineup now comes with Apple Carplay and Android Auto

Chevrolet is launching the Colorado Trail Boss at the Cebu Auto Show.

Volkswagen changes its iconic logo as it shifts toward a new era in electric technology.

We answer some of your questions about how a hybrid drivetrain system works.

MG PH is excited to announce the impending release of its new subcompact sedan, the MG 5.

Hyundai Philippines wants to show the world that Filipinas are world-class.

Land Rover has announced that revival of one of its longest nameplate, the Defender.

Toyota launched the all-new Toyota Corolla Altis with a Hybrid variant. Unfortunately, it has put the Prius hybrid in a tight spot.

Toyota finally launches the 2020 Toyota Altis on Philippine shores along with a new Hybrid variant.

Toyota Motor Philippines recently launched the Corolla Altis Hybrid. But what about servicing?

Isuzu Philippines together with Jacobo Z, Gonzales Memorial School of Arts and Trade help train the next generation of car technicians.

Toyota announces that it will have a new global platform for its smaller vehicles for better handling and a better ride

Mazda is giving the public a chance to drive the new Mazda3 in BGC on September 8-9 along with the rest of the Japanese company's model lineup.

If you're in the market for a used car, then getting a repossessed unit might be an option for you.

Honda Cars Philippines partners up with the Automobile Association of the Philippines for a fuel economy run.

Mercedes Benz launches the new CLA, which features a sporty coupe design.The new CLA can be had for an introductory price of P3.19M.

With the specifications for the 2020 Corolla Altis making its rounds around the internet, Toyota Philippines is now accepting reservations for the brand new vehicle.

Porsche enters the battery electric vehicle market with the 2020 Taycan.

The Vios Racing Festival is more than just racing as it features new events and side attractions aside from the famous circuit racing.

Isuzu Philippines introduces a revamped D-Max with a new LS-A variant and minor exterior tweaks

If you're in the market for a small hatchback, you might want to consider taking a look at our list of five value-packed vehicles.

Nissan introduces golf technology that works with cars too. This system well help the driver during long highway drives thanks to a camera and the vehicle's built in navigation.

Nissan is set for the launch of the all-new 2020 Juke on September 3, 2019, but Nissan isn't done teasing the car just yet.

The all-new Accord might be coming with a turbo and a hybrid soon.

AVID recently reported that it was able to sell 50,164 units in the first seven months of this year. The sales numbers are lower than last year but it believes it can bounce back.