Jacob Oliva
Content Team Lead / Senior Car Reviewer
Jacob loves cars and driving. From slow city cruisers to heart-pumping, almost-illegal ones, he believes that all cars should be appreciated regardless of the amount of horsepower they make. His affection for four-wheeled vehicles is almost as passionate as his love for writing, sushi, and everything in between.
@jacobo_sing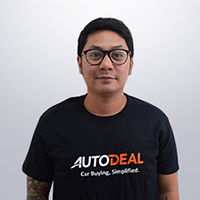 The Santana AT could be your very first Volkswagen. But how does it perform as a daily driver?

3.9

/

5

The refreshed Montero Sport gets solid updates for this year, along with an affordable price tag.

Do the subtle updates matter in the refreshed, top-spec Civic?

4.0

/

5

Is the Santa Fe worth the premium for a 7-seater family car?

4.2

/

5

Engine downsizing and turbocharging is the in thing these days, and so is driving your very own midsize executive sedan.

Ford Philippines' new managing director wants to automate parts sourcing in order to solve customer service woes.

Toyota Philippines brings in the Corolla Altis Hybrid and we spent a few minutes with it to see what's new.

We took one for a spin in a tour around Bohol and here's what we found out.

A turbocharged compact sedan makes a strong case for a compelling comeback.

3.9

/

5

Feature-packed but with a few things that need addressing.

We can give you several reasons to hate this Italian hatchback, and a few ones why we'd buy one someday.

When going for the 2019 Honda Civic, you'll face an interesting set of options. It turns out, the middle 1.8 E variant is the greatest of the bunch.

4.0

/

5

Feature-packed mid variant for the tech-savvy car buyer.

The South Korean fastback sedan with deep European roots.

4.4

/

5

While the Stinger has an exceptional on-road performance, its tech and safety offering is rather conservative, relatively.

A sporty fastback on the outside, a real grand tourer on the inside.

Is the all-new Forester worth raving about even without the turbo?

4.2

/

5

With its competitive price tag, can the mid-variant Forester offer the best in terms of features?

The Forester keeps its crown of having one of the most well-appointed cabin.

Is the BR-V now ready to face its newer rivals with this mid-cycle update?

Moving down a trim level isn't such a bad deal at all.

3.8

/

5

A downgrade from the range-topper but still an inch over the competition.

Good quality cabin materials in a pint-sized package.

Nips and tucks plus a new face go a long way in this refreshed model.

3.9

/

5

With its slew of active and passive safety features, the Strada climbs to be the best in safety in the pickup truck segment.

Interior amenities that's pretty much the same as before.

What more can we say? It's the next best thing to the 30th Anniversary Edition hardtop Miata.

4.4

/

5

The range-topping MX-5 RF Club Edition delivers in terms of standard features but of course, it has room for improvement.

Limited space with a few oddities here and there – things you won't mind.

A full-blown metamorphosis of Honda's smallest car in just a facelift.

4.0

/

5

The Brio ticks the right boxes but with a few things missing.

From curvy to angular, the changes in the new Brio's interior are skin deep.

The most-awaited Toyota Supra has entered the Philippine automotive market much to every enthusiast's delight.

Building a young brand's identity isn't a walk in the park.

Buying a brand-new car is one thing. Providing services during the course of ownership is another.

A closer look at the 2019 Chevrolet Spark's technology and safety features.

In terms of its cabin, what makes this pint-sized hatchback stand out in its class?

Can Chevy's smallest car spark joy in your heart?

3.8

/

5

Honda Cars Philippines, Inc. gives its game-changing BR-V 7-seater a much-needed update.

The only diesel-powered midsize sedan has made a compelling return to the Philippine market.

4.4

/

5

The Mazda6 sedan might have the steepest price tag of all midsize sedans, but it's rightfully so.

Rebranding as premium? Mazda's near that promise with the Mazda6.

What's it like to drive 1,000+ horsepower in one week? Let the photos do the talking.

The Lamando name may connote leadership, and VW made the right decision in naming the car so.

4.2

/

5

In-cabin toys that techie people would approve of.

Volkswagen's midsize competitor gets a well-appointed interior with a few quirks.

Does the fourth-generation mini off-roader match your money's worth?

3.8

/

5

Here's a more in-depth look at the Jimny's technology and safety offerings.

A couple of decades better than its predecessor in terms of interior execution.

Joining the competitive Philippine automotive market with affordable cars for families and businesses.